Partnership with Children Welcomes Travis Rodgers as Chief Equity and Strategy Officer
Dynamic executive to lead nonprofit's commitment to Diversity, Equity and Inclusion among its staff, students and communities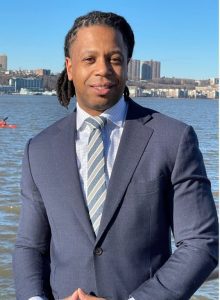 New York, NY February 8, 2021 – Partnership with Children (PWC), the 110-year-old nonprofit whose pioneering social work and community school programs support the mental health and wellness of children in schools across New York City, has named Travis Rodgers as Chief Equity and Strategy Officer. In creating this new position, PWC is dedicating a senior leader to drive the strategies, policies and communications that together uphold its longstanding commitment to antiracism throughout the organization and in its community-based programs.
"Our people are our biggest asset, and they have been doing critical work addressing the trauma in communities hardest hit by the pandemic and systemic racism. We are proud to welcome Travis Rodgers as a versatile leader who will sustain our extraordinary teams and support our antiracism work. His passion and skills in advancing equity in talent development, systems design and advocacy will strengthen our infrastructure and help us deliver on our mission," said Margaret Crotty, PWC's CEO and Executive Director.
PWC has worked for many years to make Diversity, Equity and Inclusion (DEI) and antiracism integral to its workplace and its program work. Led by a DEI Council comprised of a cross-section of its staff and positions, PWC has developed detailed policies, practices and data-informed systems to enhance DEI in its program design; its hiring, retention and promotion practices, and the personal and professional development of its people.
"I am excited to join PWC's extraordinary staff and leaders who have built a thoughtful and resilient DEI and antiracist foundation. I hope to honor their dedication and purpose as we continue this vital work," Rodgers said.
PWC is the largest service provider in New York City's community school initiative, and one of the city's major providers of school-based mental health services, supporting over 30,000 students in schools in all five boroughs.
The organization promotes equity and raises community voices in its programs, and supports schools on their own antiracism journeys. As an example of its external impact, New York City schools asked PWC to provide anti-bias trainings, healing spaces and trauma-informed services following the widespread protests against systemic racism in 2020.
To enhance these initiatives, Rodgers brings a strong background of leading equity initiatives in education, law and social work. Previously he served as the Director of Diversity and Equity for Teacher Licensure at Educational Testing Services (ETS). In this role, he established and built national equity initiatives for ETS. He launched and led a series of programs focusing on diversifying the teacher pipeline, creating greater equity in test design and accommodations, and establishing culturally responsive teaching practices and policies. Rodgers advised legislators, policymakers, and university administrators on practices and policies to create greater equity in education for students and educators of color.
Prior to his work in the educational sector, Rodgers practiced law as a litigator at Brown Rudnick, LLP, focusing on complex civil litigation and corporate bankruptcy. At Brown, Rodgers was recognized for his pro bono work, including leading a team of attorneys managing a city-wide moot court program for Boston public school students.
At the Northeastern University School of Law, where he attained his JD, Rodgers was awarded the Next Generation Leader by the American Constitution Society. He was named a Lawyering Fellow and as a member of the Black Law Student Association served as a mentor.
Travis received an MSW in Community Organizing with a focus on children and youth at the University of Michigan, where he also attained his BA.
Partnership with Children (PWC) For over 100 years, Partnership with Children (PWC) has supported New York City children. With school-based programs rooted in a trauma-informed approach, a steadfast commitment to antiracism, and expertise in children's social-emotional wellbeing, PWC supports over 30,000 students in all five boroughs.
PWC is now the largest service provider in New York City's community school initiative, and one of the city's major providers of school-based mental health services. Its full-time, credentialed social workers provide social-emotional learning programs, trauma-informed counseling, and mental health services —so students can learn and thrive. In 19 community schools, PWC's specialized teams integrate academics, health, social services, youth development, and community engagement.
In 2020, PWC acquired the Center for Arts Education (CAE) in order to increase its portfolio of services to enhance social-emotional learning and racial justice initiatives in New York City schools. PWC has nimbly provided critical services to school communities since the pandemic hit, and has been especially prepared to answer the call to support schools on their antiracism journeys.