Leadership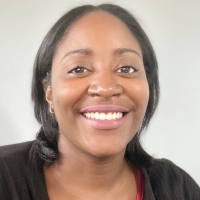 Catherine Anderson-Cruickshank, LCSW
Program Director
Catherine is a Program Director, providing clinical and programmatic oversight of three Community Schools, including PS/IS 165, PS/IS 284, and PS 298, in Brooklyn.  She has extensive experience in academic, court-based, and clinical settings, serving vulnerable children, adults, and families. She has engaged in direct practice, staff, and program management, most recently as an Administrative Supervisor in therapeutic foster care. As a lecturer, Catherine teaches advanced level courses in various reputable Universities and MSW programs. Catherine has a Master's Degree in Social Work and a Bachelor of Arts in Psychology from Adelphi University.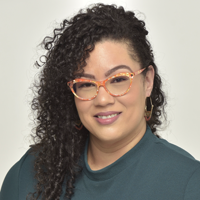 Jasmin Berrios, LCSW, CLC
Program Director
At Partnership with Children, Jasmin oversees Renaissance School of Arts, MS 377, P.S. 38-Roberto Clemente, in East Harlem and Fannie Lou Hamer Freedom Middle School, in the Bronx. Prior to joining Partnership with Children, she served as Program Director with Healthy Families New York, focused on improving maternal and infant health outcomes and early childhood development by way of supporting positive parent-child attachment. Jasmin has always been passionate about working with young people and improving services in underserved communities. Jasmin has a Bachelor's degree in Psychology from the State University of New York at Oswego and a Master's degree in Social Work from Silberman School of Social Work at Hunter College as well as postmaster's training from the Ackerman Institute for the Family.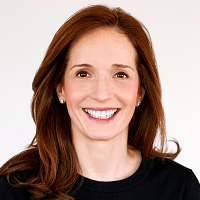 Margaret Crotty
Executive Director and CEO
Margaret Crotty has served in executive leadership roles in both the not-for-profit and private sectors in the areas of education and public health. Prior to joining Partnership with Children, Margaret launched and ran Save the Children's $2 billion initiative to reduce child mortality in the developing world. Previously, she was the President and CEO of AFS-USA Intercultural Programs, formerly the American Field Service, which has provided intercultural exchanges for over 300,000 high school students since 1947. Margaret has also served as the Executive Director of a workforce development agency serving New York City and Washington, DC. In the private sector, Margaret spent seven years at the global corporation EF Education, the world's largest privately-held education company, living in Shanghai, Hong Kong and Paris, first as a member of the founding management team of EF's online language education business, and later as President of EF's higher education business. She has also lived in Indonesia on two occasions, working for McKinsey & Co. and for Save the Children. Margaret graduated with honors from Princeton University in History and African-American Studies. She holds an MBA from Harvard Business School and a Masters in Public Health from the Mailman School at Columbia University. She serves on several health and education boards, including those of Northwell Health, Lenox Hill Hospital, The Open Medical Institute, The Inner-City Scholarship Fund, Third Street Music School, and the Middlebury Center for Social Entrepreneurship. She is a member of the Seachange Capital board, a member of the Young Presidents Organization (YPO), and the Program Leader for the Emerging Leaders Program, a management and leadership program for young leaders in the social sector.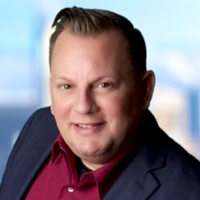 Ron Divito
Director of HR and Administration
Ron joined Partnership with Children in 2000 working in the Development Department, and quickly became the Office Manager. He was later promoted to Director of Human Resources and Administration. He provides guidance around human resources and administrative issues, including hiring, onboarding, leave and health benefits, payroll and timekeeping administration – and overall administration of the office space and building policies. Prior to joining Partnership with Children he worked at a variety of health and human service organizations. Ron is also a member of the Society for Human Resource Management. He is the longest standing employee and deeply connects to and believes in Partnership with Children's mission.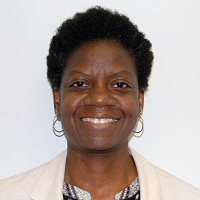 Angela Jefferson, LCSW
Chief Program Officer
Angela oversees all of Partnership with Children's programs. She has dedicated more than fifteen years of her career as a social worker to working with community based organizations, schools, and health care agencies throughout New York City, primarily serving neighborhoods that disproportionately experience the challenges of community violence, teen pregnancy, child abuse and neglect, domestic violence, and health disparities. Angela has extensive experience as both a direct practice clinician and as a clinical supervisor. Prior to joining Partnership with Children she served as the Director of Family Support Services for the Family Health Centers at NYU Langone. Angela has a Master's degree in Social Work from New York University as well as postmaster's training from NYU and the Ackerman Institute for the Family.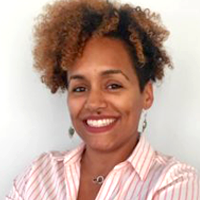 Lola Martin, LCSW
Clinical Director
Lola Martin is a Clinical Director overseeing and providing clinical supervision to several Partnership with Children social work programs, including MS 126 in Brooklyn and High School for Teaching and the Professions in the Bronx. Lola has been in the field of school and community-based social work for over 13 years. In her prior role as Social Work Director at PS 194, a Partnership with Children elementary school in upper Harlem, Lola provided ongoing counseling and support to children and their families, support groups and professional development for teachers and support staff, workshops for parents, and ongoing classroom-wide interventions. She is also a part of Partnership with Children's Diversity, Equity, and Inclusion Council and serves as a facilitator of "Anti-Racism 101" trainings for staff. She firmly believes in developing the day-to-day "muscle" of individuals and organizations to walk in the truly reflective work of becoming anti-racist. Lola holds a dual Bachelor's degree in Business Administration and Information Science and Policy from the State University of New York at Albany and a Master of Social Work from the University of Pennsylvania. She has also received additional training in Play Therapy from Western State Connecticut University and the University of North Texas.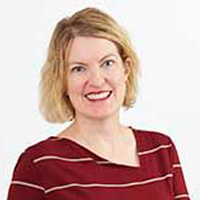 Katie Nicholson, LCSW
Clinical Director
Katie has been with Partnership with Children in various roles since 2001. In her current role, she provides programmatic oversight and clinical supervision to seven of the organization's partner schools. Prior to joining Partnership, Katie worked at New York Presbyterian/Westchester Division in the Child & Adolescent Inpatient and Outpatient units. Katie has always been passionate about working with children and families, leading her to launch one of PWC's most successful parent engagement programs, Parent University. Katie has a Bachelor's degree in Social Work from Shippensburg University and a Master's in Social Work from Temple University.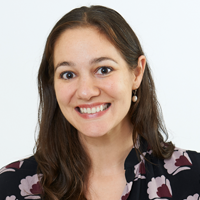 Krista Pietrangelo
Director of Program Design and Performance
Krista established and oversees the online system for PWC's data collection, reporting, and continuous learning work, ensuring there are clear links between desired program impact, program activities, and performance measurement and monitoring. An expert in theory of change models and effective program design, she also works to develop and assess new strategic program models within PWC, and currently supervises the programs from the affiliated Center for Arts Education. Krista is passionate about social justice and has worked in the nonprofit sector in NYC for over a decade. Prior to joining Partnership with Children, Krista served as Director of Planning and Evaluation at Safe Space NYC, where she oversaw data & evaluation, public grant writing, and strategic planning initiatives. Krista has also worked for the Community Service Society of New York as a Strategic Planning and Policy Associate, and in the Evaluation Branch of the National Institutes of Health Office of the Director. She has a Masters of Public Policy from The George Washington University and a BA in English from Villanova University.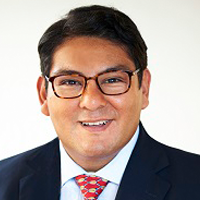 R. Franklyn Pintado
Vice-President of Finance
Franklyn joined Partnership with Children in 2016. He oversees the organization's day-to-day accounting and reporting functions. Prior to joining Partnership with Children, Franklyn served as the Senior Director of Finance and Administration at Single Stop USA, a national nonprofit that specializes in benefit access, and financial and legal counseling for low income families. He studied Finance and Accounting at Lehigh University and has worked in the nonprofit sector for more than 10 years. Franklyn was named one of NYN's 40 Under 40 Rising Stars in 2018.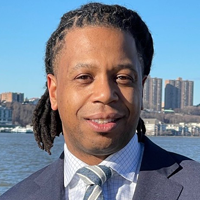 Travis Rodgers, MSW, JD
Chief Equity and Strategy Officer
Travis Rodgers brings a strong background of leading equity initiatives in education, law and social work to his role. Prior to joining Partnership with Children, he served as the Director of Diversity and Equity for Teacher Licensure at Educational Testing Services (ETS). In this role, Travis established and built national equity initiatives for ETS. He launched and led a series of programs focusing on diversifying the teacher pipeline, creating greater equity in test design and accommodations, and establishing culturally responsive teaching practices and policies. Travis advised legislators, policymakers, and university administrators on practices and policies to create greater equity in education for students and educators of color. Prior to his work in the educational sector, Travis practiced law as a litigator at Brown Rudnick, LLP; focusing on complex civil litigation and corporate bankruptcy—including a successful suit against Donald Trump. At Brown, Travis was recognized for his pro bono work, including leading a team of attorneys managing a city-wide moot court program for Boston public school students. Travis graduated from the University of Michigan with a BA in Political Science—particularly focusing on American politics and race. He also holds an MSW in Community Organizing with a focus on children and youth from the University of Michigan and a JD from Northeastern University.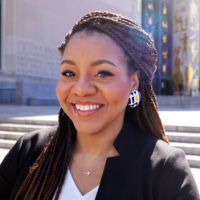 Jessica Rawlins
Chief Development Officer
Jessica has over a decade of experience in fund development, using public and private philanthropy, strategic planning, and bringing high-impact resources to organizations eliminating the inequitable outcomes of systemic oppression. Jessica has built an impressive record as a fundraising specialist supporting some of the region's most transformative education, arts, and community-based initiatives, including Partnership with Children. Jessica currently serves as Partnership with Children's Chief Development Officer where she is leading fundraising and development operations for one of New York City's largest providers of Community School programs. Prior to Partnership with Children, Jessica served as Senior Development Director at All Our Kin, leading the critical growth of fund development in support of high-quality family child care programming. In addition, she served as the Director of Institutional Giving at the Harlem Children's Zone, where her team oversaw a multimillion-dollar portfolio of private philanthropic and publicly contracted, and corporate funding to support a broad range of early education, K-12, postsecondary and family-based programs. Jessica currently serves on the board of directors of the Fiver Children's Foundation.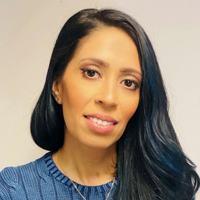 Christine Salazar, LCSW
Clinical Director
Christine has experience as both a direct practice clinician and a clinical supervisor. Christine has dedicated more than thirteen years of her career as a social worker to working with community based organizations and schools, primarily serving some of the toughest, most under-served communities. Prior to joining Partnership with Children, Christine served multiple roles at the Puerto Rican Family Institute, Inc. Those roles included, Clinic Director of the Brooklyn Mental Health Clinic, project manager of the Electronic Medical Records program and, most recently as the Behavioral Health Services Specialist.Christine has a Master's degree in Social Work from New York University as well as postmaster's training in Clinical Practice with Adolescents and Executive Leadership in the Not-for-Profit Sector from NYU. Christine is a member of the National Association of Social Workers.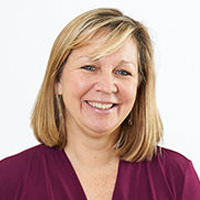 Marina Schreiber
Chief Financial and Administrative Officer
Marina oversees all financial and administrative operations for the organization and brings experience from for-profit, government, and non-profit organizations to her role. Prior to joining Partnership with Children, Marina served as Chief Operating Officer at Domus Kids, Inc.; Chief Administrative Officer at the I Have A Dream Foundation; Director of Special Projects, Office of Deputy Chancellor for Finance and Administration at the New York City Department of Education; and Principal, Health Solutions Group at American Management Systems. Marina has a B.S. in Industrial Engineering from Columbia University and an MBA from the Fuqua School of Business at Duke University.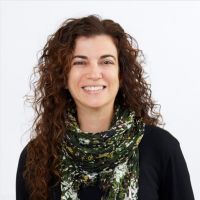 Meredith Sherman, LCSW
Vice President of Programs, Community Schools
Meredith's work at Partnership with Children includes programmatic oversight of all of our Community Schools and of the Center for Arts Education (CAE), which recently joined the Partnership with Children family.  She brings significant expertise in the community school strategy, which combines social work, youth development, enrichment activities, family engagement, and community outreach; as well as using the arts to advance social-emotional learning, academic excellence, and social justice.  Meredith previously served as a Program Director at PWC, with programmatic oversight of four Community Schools in East New York and Brownsville.  Meredith has provided social work services to youth between the ages of 4-18 both in the school setting and in youth development programs. She spent over 11 years as Program Director at Groove With Me, Inc. and 2 years as Clinical Director of Programs at ENACT. Earlier in her career, she was a Special Education teacher in South Phoenix as a Teach For America corps member. Meredith received a Bachelor of Arts degree in Psychology and Linguistics from the University of Michigan; a Master of Science in Social Work degree from Columbia University; and a certificate in Not-For-Profit Management from the Baruch College/PASE Emerging Leaders program.  Meredith was a 2008 recipient of the PASEsetter Award.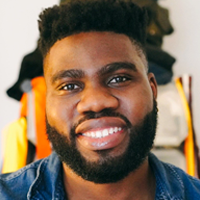 Kazeem Shinaba, LCSW
Program Director
Kazeem Shinaba, LCSW brings several years of experience providing and managing school-based programs and services to his role overseeing our large program at PS 914 in Harlem. In his current role, Kazeem oversees a DYCD-funded Beacon Progam, an ACS-funded preventative program, and a DOE-funded community school program. He has served in increasingly senior roles at Partnership with Children, including Social Worker, Senior Social Worker, Community School Director and Social Work Director. Kazeem has a Bachelor's degree in Health and Human Services from St. John's University and a Master's degree in Social Work from Lehman College.
Aminah Abusway
Community School Director
Nefertiti Bobb-Semple
Social Work Director
Awilka Aleman
Family Outreach Coordinator
Leah Angulo
Supervisor, Harlem FRE Program
Guadalupe Aparicio
Project Hope Crisis Counselor
Karen Aromi
Student Support Specialist
Michelle Back
Senior Social Worker
Karen Bagnini, LCAT, LCSW
Social Work Director
Aissatou Barry
Family Advocate, Harlem FRE Program
Maggie Becker, MSW
Social Worker
Mary Bommarito, LMSW
COMPASS Program Manager
Kate Breslin, LMSW
Social Work Director
Mary Brown, MSW
Senior Social Worker
Ruth Nelly Burgos
Family Advocate, Harlem FRE Program
Lavona Cassimy, LCSW
Social Work Director
Woodeline Charles
Family Advocate, Harlem FRE Program
Melissa Chattman, LMSW
Social Work Director
Maurice Clayton
Student Support Specialist
Jarrod Colston
Community School Director
Mike Crowell
Project Hope Crisis Counselor
Jazmine Curmon
Family Outreach Coordinator
Richard Dauphin
Community School Director
Alexis Diaz, LMSW
Social Work Director
Tasha Dunlap
Family Advocate, Harlem FRE Program
Alexxis Farenga, MSW
Senior Social Worker
Shannon Fiore, MSW
Senior Social Worker
Shequila Fluellen
Project Hope Team Leader
Dion Frias
Beacon After School Program Coordinator
Tiffany Garzon
Project Hope Crisis Counselor
Camille Gill
Community School Director
Gregary Griffin
Beacon Director
Elsa Guerrero, LMSW
Social Work Director
Lauren Henríquez-Bentiné, LCSW
Social Work Director
Jayme Hersh, LCSW
Social Work Director
Kiyonda Hester, LMSW
Senior Social Worker
Akiah Hollington
Beacon Community Outreach Coordinator
Sharon Huffman, MSW
Social Worker
La' Asia Humphrey, LMSW
Community School Director
Lourdes Infante
Parent Support Specialist
Luzmarine Jorge
Family Advocate, Harlem FRE Program
Trichelle July-Lindo, LMHC
Social Work Director
Laura Kaplan, LCSW
Social Work Director
Shawn Liddell
Social Work Director
Jasmine Lugo, MSW
Director, Harlem FRE Program
Kevin Malave
Family Outreach Coordinator
Crystal Martinez, LMSW
Social Work Director
Ashley Martin
Interim Social Worker
Selenah Martin, MSW
Social Worker
Yvonne Mbewe
Social Work Director
Magan McCarthy-Hayes, LCSW
Social Work Director
Nicole Mendes
Project Hope Crisis Counselor
Daniel Mendez
Family Outreach Coordinator
Scholanda Miller
Community School Director
Zakiyyah Morell
Family Outreach Coordinator
Katherine Moreno, LMSW
Senior Social Worker
Rachel Moreno
Project Hope Crisis Counselor
Caryn Moore, LCSW
Clinical Supervisor
Jazmin Novoa, MSW
Community School Director
Janielee Ortega, MSW
Social Worker
Amanda Padilla
Social Worker
Shanikqua Palmer, LMSW
Social Work Director
Marcus Pass
Community School Director
Celina Patterson, LMSW
Social Work Director
Rosemely Paulino
Family Advocate, Harlem FRE Program
Kim Peters, LMSW
COMPASS Program Manager
Jenny Rawlings, LCSW
Social Work Director
Liz Rendon, LMSW
Project Hope Project Coordinator
Jamara Moye-Richards
Family Advocate
Andrea Ricketts
Family Outreach Coordinator, Harlem FRE Program
Alison Rivera
Family Advocate, Harlem FRE Program
Aida Rondon
Community School Director
Keycia Rose
Family Outreach Coordinator
Molly Royce, LMSW
Social Work Director
Artie Sanchez
Family Advocate, Harlem FRE Program
Monica Saurez, LMSW
Social Work Director
Julia Shelzi, LMSW
Social Worker
Jermaine Small
Community School Director
Alexis Smith-Crawford, LMSW
Social Work Director
Caitlin Sneeden, LMSW
Social Work Director
Alexandra Teitel, M.Ed
Program Director
Candace Thomas, LMSW
Supervisor, Harlem FRE Program
Melissa Tract, LMSW
Senior Social Worker
Ashley Valle, MSW
Social Worker
Roxana Vazquez-Hili, LCSW
Social Work Director
Karen Vazquez
Project Hope Crisis Counselor
Kristie Villanueva
Social Work Director
Shawntae Walden
Assistant Beacon Director
Venus Warlick
Family Outreach Coordinator
Cassi Wilkins
Community School Director
Samantha Wontumi, M.Ed
Project Hope Team Leader
Brittany Young
Family Outreach Coordinator
Irene Asuen
Finance Associate
Fleur Brathwaite
Executive Assistant
LaTrinnia Braxton
Director of Development Operations
Makenzie Collins
Development & Communications Associate
Chelsey Coy
HR Associate
Yitzhak Franco
Program Operations Coordinator
Jeanne Malaxos
Senior Finance Associate
Joseph McPartland
Assistant Finance Associate
Alvin Morgan
Finance Associate
Destinei Simpson
Monitoring and Evaluation Manager
Harleny Vasquez, LMSW
Talent and Equity Manager