Helping kids post-COVID-19: A Q&A with Partnership With Children's new CEO Wesner Pierre
The exec looks back at his own childhood and can relate to the challenges New York City's youth face moving forward from the pandemic.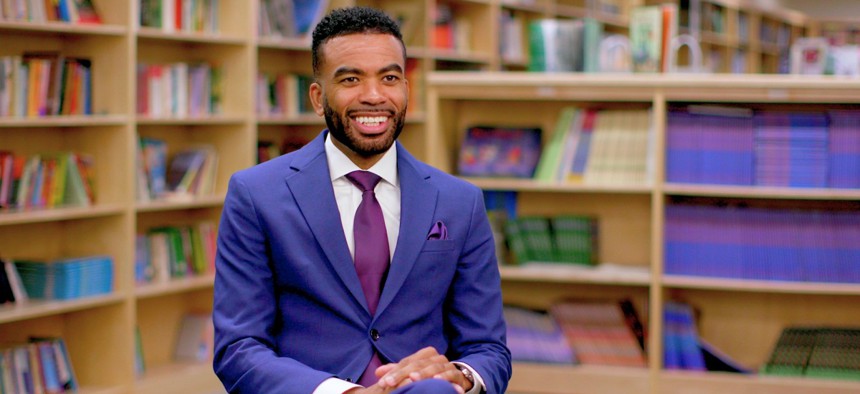 By MEGAN MCGIBNEY
September 25, 2023
Wesner Pierre, as CEO of Partnership with Children, in just two years has experienced some of the toughest challenges of working with children living in post-pandemic New York City. Even though that is partially because the pandemic put children all over the city through turmoils that haven't been around in decades, Pierre could also nod at his own experience growing up in New York during a time of crisis.
A native of South Jamaica, Queens, Pierre's childhood in the 1980s saw the ravages of the crack epidemic. He and his three siblings were raised by a single mother, who eventually succumbed to the drug as well as mental health challenges. When his grandmother began taking care of the four children, Pierre started looking for other adult supporters in the community centers and afterschool programs he went to. So began his journey towards working with youth development in the nonprofit sector.
After working as an adjunct professor in literacy and nonprofits focused on youth development, such as Harlem Children's Zone, Pierre landed at Partnership with Children in February 2022. The nonprofit, one of the oldest in New York City, is celebrating its 115th anniversary, this year.
The timing for Pierre to become the partnership's CEO comes at a crucial time. With more attention being paid to mental health, and 8,700 New York children having lost a parent or caregiver to COVID-10, the list of things to do is long. At the same time, tackling of chronic absenteeism throughout city schools is another mission Pierre and the partnership are committed to. The partnership serves more than 13,000 city children compared to more than 10,000 pre-pandemic.
When he sat down with New York Nonprofit Media, Pierre expressed a determined enthusiasm for helping New York's youth in a post-pandemic world. He knows his story is similar to the children his organization works with, which is why he decided to be its latest CEO.
How is your story reflective of New York youths today?
I came from a difficult neighborhood during a difficult time in our city's history, where I really had to lean into caring adults. Interestingly enough, we now are in a really difficult time, in the history of New York City, having come off the heels of the pandemic. When I was a young kid,  I needed support, and we didn't have the resources back then. There weren't any licensed clinical social workers supporting these communities. These afterschool programs, the awareness around the challenges of mental health, and the effects that they have on young people and families was not where it is today. If there's one thing that the pandemic has done, it has shone a spotlight on the need for mental health support. What we're finding in our schools is how our young people are carrying this, and there's a thing called toxic stress; that is when you have prolonged stress in your life. We're finding that young folks are carrying this and that means that a young person is not going to be able to be effective in a classroom, focus in a classroom or build healthy relationships with their peers. We're finding that these challenges are definitely on the rise. I feel like my upbringing mirrors, in many ways, the challenges that our young people are seeing today, and that's what drew me to the work and that's what excites me about the work every day.
The school year has started. What will  you and your team be doing?
Back to school is a special time for us. We have been doing a number of back-to-school events, celebration backpacking, we respond to food insecurity. We're also looking, as we come into buildings, the importance of supporting our teachers. Our teachers are letting us know at record numbers that they need help, they're burnt out. Also in our communities, there are high increases of violence. There's a 300% increase in the number of guns that will be found in school, from the pre-pandemic levels to now, which is causing a very stressful environment. We want to make sure that we're supporting our teachers as well, through being an unofficial sounding board. If we can come in and support [a] young person, that really changes the face of that classroom and…that classroom can be a successful space. I think what grounds us in all of this are two things. Number one, we recognize that there's still a problem. Number two, we recognize that at the heart of that problem is toxic stress, and we need to tackle that.
How does the partnership address chronic absenteeism?
We do that in a variety of ways: individual sessions, group sessions. We have some of our social workers in the classroom. We place our licensed clinical social workers, with that young person to understand what is the root cause of their challenges. We want to address that [and] allow them to unpack that. So if that's the barrier, our job is to remove that barrier.  [We locate these children] through teacher referrals. Some of them through parental referrals.
What should people know about chronic absenteeism?
I want folks to know that chronic absenteeism is the byproduct of personal and systemic issues that our young people are dealing with and grappling with. If we don't acknowledge that, and address those issues, chronic absenteeism is here to stay. Young folks are not magically going to start coming back into the classroom without us addressing what has caused them to leave the classroom in the first place. What we're advocating for is, let's recognize the moment, let's change the way we address our kids and support our kids. Today, is the same as it was last year or even the year before. But yet we're approaching this problem in the same ways in which we've approached it historically. I would argue that the approach is flawed.
What do you hope for the partnership going forward?
That we lift that message that this work is necessary. It's foundational and without it, you will continue to get the results that we're getting, which is chronic absenteeism, and all the other challenges that we're seeing on the rise. We want to stop, cut that flow, and stop that from continuing to go up. That's my hope, that we're able to be good messengers across the city, and lift up the good work that we're doing. But importantly, lift up the need for this critical support for our young folks.