Watch our Year In Reflection Town Hall and SEL Discussion: Social Emotional Learning with an Equity Lens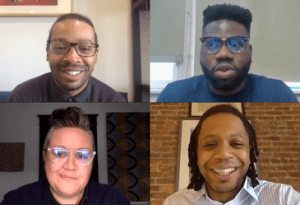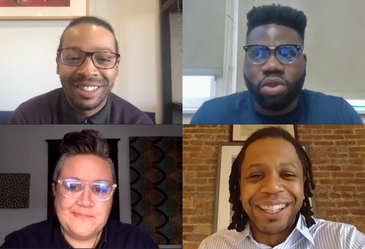 Partnership with Children's Chief Equity & Diversity Officer, Travis Rodgers, held a panel to explore the role Social Emotional Learning plays in how we serve our students. Our panelists, Dr. Case, Dr. Ezeikiel Joubert, and PWC's Program Director, Kazeem Shinaba, discuss how white supremacy impacts SEL and how organizations can use SEL towards their anti-racism goals.
If you missed it, please click here to watch the full recording.
Panelists: 
Dr. Ezekiel Joubert III
Assistant Professor, California State University, Charter College of Education & Applied Studies in Education
Kazeem Shinaba, LMSW
Program Director, Partnership with Children
Dr. Alissa Case
Enrichment Coordinator at St. Louis Park Public Schools
Moderator: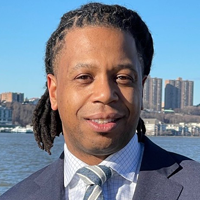 Travis Rodgers, MSW, JD, Chief Equity and Strategy Officer. Travis Rodgers brings a strong background of leading equity initiatives in education, law, and social work to his role. Prior to joining Partnership with Children, he served as the Director of Diversity and Equity for Teacher Licensure at Educational Testing Services (ETS). In this role, Travis established and built national equity initiatives for ETS. He launched and led a series of programs focusing on diversifying the teacher pipeline, creating greater equity in test design and accommodations, and establishing culturally responsive teaching practices and policies. Travis advised legislators, policymakers, and university administrators on practices and policies to create greater equity in education for students and educators of color. Prior to his work in the educational sector, Travis practiced law as a litigator at Brown Rudnick, LLP; focusing on complex civil litigation and corporate bankruptcy—including a successful suit against Donald Trump. At Brown, Travis was recognized for his pro bono work, including leading a team of attorneys managing a city-wide moot court program for Boston public school students. Travis graduated from the University of Michigan with a BA in Political Science—particularly focusing on American politics and race. He also holds an MSW in Community Organizing with a focus on children and youth from the University of Michigan and a JD from Northeastern University.